Deck Staining in Huntersville, North Carolina
R and R Painting NC LLC is proud to offer Deck Painting in Huntersville North Carolina. We also provide Deck Staining and Deck Restoration services in Huntersville NC.
Your deck takes a beating from the elements. The Sun's UV rays destroy wood fibers and the heat, cold, and moisture causes all kinds of stress. On top of that, mildew, moss, and bugs will take up residence if allows. Protect your Huntersville NC deck with deck paint or stain.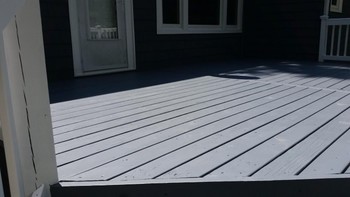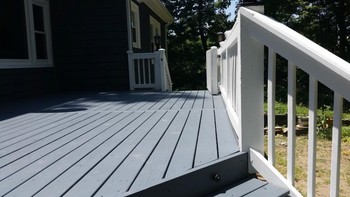 If you have ever tried painting your Huntersville NC deck, you know that its not an easy task. Deck Painting is both a skill and an art.
That's why R and R Painting NC LLC's professional deck painters must have several years of experience painting decks in and around Huntersville NC.
When it comes to high quality affordable staining, painting, and restoring decks in Huntersville, NC, R and R Painting NC LLC is the deck restoration contractor Huntersville residents trust.
---
Call for FREE Deck Staining Quote
---
WHAT CUSTOMERS ARE SAYING:
5★★★★★ - "Randy and his crew have painted both the inside and outside of our home. He and his crew are always professional and the quality of his work is excellent. He starts when he says he will and finishes the job in a timely manner. His crew cleans up at the end of each day and when the job is done your property is left clean and orderly. We would always go to Randy for any painting project."

Robert Franks in Huntersville, NC

2019-09-11

5★★★★★ - "Last year (2018) I needed kitchen cabinets refinished and had a contractor tell me he was going to repaint with oil based paint.
My second call for a quote was to Randy due to his impeccable website. He educated me as far as what really needed to be done to my cabinets and oil paint was NOT the answer. Randy and crew did the refinishing, plus painted the entire kitchen and family room and I couldn't be happier. So calm and easy to work with. All the promises fulfilled. Not a penny spent until I was happy with the entire job.
So this year I contracted him to paint the entire exterior of my house including the sun porch (which has a 30 foot ceiling!). I left color, finish and repair up to Randy and crew and today I have so many compliments on my home. I have recommended him to 3 friends who have used him and results are the same - wonderful.
Thanks, Randy"

Robert and Dolores in Huntersville, NC

2019-05-23

5★★★★★ - "R and R painting provided my husband and I with a wonderful experience! We had used their services 2 years ago for some outside painting and did a wonderful, quality job so we knew we wanted them to do our inside painting. We had the majority of the inside of our home painted, including the ceilings. We had the walls painted with a light gray and white trim and they did a great job, quality work and very detailed. They also white washed our fireplace, what an unbelievable difference and they did a fabulous job! All workers were friendly, courteous and showed great respect of our home and furniture as they painted each room. We are very pleased with the work they provided, very detailed and looks wonderful. Randy was very accommodating to our needs/timeline, professional and a pleasure to work with! Randy also made and installed some beautiful hand railing with metal balusters that just makes the living room and dining room look beautiful. I cannot praise Randy and workers and their quality work enough! Highly recommend their services to anyone!"

Ed and Sammie Cecil in Huntersville, NC

5★★★★★ - "Randy and his crew did a great job from beginning to end. We under a tight time line to get our ENTIRE interior painted before our official move in date. Randy made the entire process easy and finished the job on time. We even gave him more work to do mid way as we had him touch up renovations and other trim work another contractor had come in and done for us. No that the inside is done, we will be calling him again soon to take a look at the outside areas."

Kevin Fensley

2015-04-08

5★★★★★ - "Provided excellent service even though I contacted them at the last minute. Very reasonable rates- less than half the cost of other painters. Room looks excellent."

Stephen Loych in Huntersville, NC

2014-12-09

5★★★★★ - "Randy and his team did a great job on painting the exterior of my home. The quality of work was excellent. I did not see any overspray and they took the time to prepare the home properly before painting. The process was simple. I would definitely recommend."

Kevin in Huntersville, NC

2013-05-21

5★★★★★ - "I just want to thank you for the extraordinary quality of service that I received from R&R Painting and I truly appreciate the timely experience of you and your painting crew meeting my deadlines as promised. The painting crew was very professional, polite, hardworking and provided the highest level of quality workmanship and service. Thanks for the follow up inspections on all the details to ensure that I was completely satisfied. Please know that I will use R&R Painting time and time again and certainly recommend your company to all my friends and neighborhood associates. Thanks for adding that special touch to my new house!"

Randy J., Painting in Huntersville, NC

2012-12-20

5★★★★★ - "Super responsive, results are awesome, the team was very professional. Couldn't be happier with the results!!!!"

Maria, Interior Painting in Denver, NC

2020-11-20

5★★★★★ - "Randy, David, and Josh recently repainted our outdated oak kitchen and mudroom cabinets. The cabinets look amazing! They were very professional, communicative, and timely! They also were flexible with our scheduling and are even coming back to finish up after another stage of our renovation is completed. I would highly recommend!"

Maggie in Sherrills Ford, NC

2020-02-24

5★★★★★ - "R&R Painting is a great provider of painting services at reasonable prices. Recently had Randy and his crew out for a second time to do additional interior and deck painting. The three-person crew was friendly and helpful in all manners. Very meticulous and clean. Worked steady and got the job done in a timely manner. I highly recommend them and will definitely use them again for any painting needs we may have."

Charlotte Gerke in Catawba, NC

2019-10-14

5★★★★★ - "Randy and his crew did an excellent job on our entire house. From ceilings to walls to trim. They have an eye for detail and are there to satisfy the customer. They do not cut corners and go the extra mile to make sure the finished product looks great. Randy personally inspects progress as they work to complete. Pricing was reasonable. I will use Randy again."

Keith C. in Denver, NC

2019-03-25

5★★★★★ - "Randy and staff made the process of getting our kitchen cupboards painted a reality. David was involved in every step and is meticulous in his work. We love the finished look and would recommend R@R Painting to help make any painting job a reality."

Doris in Harrisburg, NC

2019-02-20

5★★★★★ - "I can honestly say that Randy is a man of his word. I had cabinets which my late husband banged up due to his disease of ALS. He made them look perfect. I would highly recommend him for any job you have. He is the most honest person I have ever met. thank you, Randy"

Marsha B in Conover, NC

2018-11-05

5★★★★★ - "I was very happy with Randy and his crew. They painted rooms in both my old house to get it ready to be placed on the market and my new townhome and all came out beautiful! So much cleaner and brighter! And Randy always came back to double-check the work and do any touch-ups or take care of any unfinished areas. Randy and his crew are all a very trustworthy bunch. I work full-time and would just leave them a key so they could let themselves in. No issues and they always left everything neat and tidy when done."

Beth T., Interior Painting in Conover, NC

2018-08-13

5★★★★★ - "I had R&R Painting do some exterior painting at my house. They painted my front door, side garage entry door, and back door including all trim work on the door frames. They also re-caulked and painted the columns on my front porch. The entire job was completed in one day. Randy and his workers were very professional and I was pleased with the paint job and how everything turned out. I would recommend them."

Scott Lemley in Stanley, NC

2018-08-09

5★★★★★ - "I called on a Thursday and Randy came by and reviewed the work to be done on the cabinets and I had a quote on Monday. David and Paul communicated with me on when, where and how the work would be done and they were always on time. David communicated on the progress on the cabinet doors and the cabinets bases were finished in a timely manner. I would recommend this group for your needs."

Wayne King in Troutman, NC

2018-06-18

5★★★★★ - "We had Randy and his company paint our kitchen cabinets. His guys did an outstanding job. They explained the process in depth which left me knowing what to expect. David and Paul were very courteous & professional. They were always on time and left my home neat and tidy when they left. I would recommend Randy, David & Paul to any of my friends and family."

Tom T. in Denver, NC

2018-05-22

5★★★★★ - "We could not be happier with the work Randy and his crew did for us painting the interior of our home! They took the time to repair some problem areas on the walls and ceilings in our home to make it look new again. All of the team members could not have been nicer to work with. They showed up when they said they would, finished up and cleaned up after themselves! We are thrilled with the final results!
Thanks R&R for a great job! We look forward to working with you again!"

Scott Hess in Denver, NC

5★★★★★ - "Recently had our house exterior and deck painted and stained. Randy and his crew did a great job. All the crew were very professional and they did not leave paint, supplies, etc.. on my lawn or shrubs. Everything was cleaned daily after each work day. If you need your house painted, this is the crew for the job."

Debbie in Terrell, NC

5★★★★★ - "One of the best experiences I have EVER had with ANY contractor / crew. If you chose any other company to do you painting and pressure washing then you have made a major mistake! Randy and his crew(s) rate an 11 on our scale and extremely satisfied is an understatement as it was much more than that! Thanks Randy and all of your team!"

Carl Holt, Painting in Denver, NC

2015-08-21

5★★★★★ - "It was such a pleasure having people come in, on time and finish a job in a professional way, by the deadline promised. I love my newly painted interior of my home. Thank you Randy!"

Michelle D., Interior Painting in Denver, NC

2015-06-03

5★★★★★ - "The R & R Paint staff was very professional in the execution of their duties. Their attention to detail is unsurpassed and they were extremely helpful in every way. The end product was outstanding and I will call on R&R Painting again with my painting needs."

David & Lou Ann L., Painting in Mooresville, NC

2015-06-03

5★★★★★ - "I couldn't be happier with the paint job. I can't believe it's the same house! Everyone was professional and dependable. Highly reccomended!"

Jason, Painting in Mooresville, NC

2015-06-03

5★★★★★ - "R&R Painting did an amazing job on the exterior of our home. It looks fantastic and we are thrilled with the results. Randy and his crew were responsive, knowledgable and professional as well as talented. We are more than satisfied with our "new" home and will most certainly be referring friends to Randy and R&R Painting."

Amamnda A., Exterior Painting in Denver, NC

2015-06-03

5★★★★★ - "When My husband and I finally had enough money saved to get our house painted, we thought that was the easy part. Finding a trustworthy painting company seemed like a HUGE task. But we hit the Jackpot when you showed up. My husband is in law-enforcement, and knew of your good name. Your crew were all professional, polite and hardworking. Our house looks brand new. I just want to thank you for a professional, timely experience, We will recommend your company to all our friends and associates! We are having a family gathering soon, and can't wait to see the reaction of all our company when they see our house!"

Diana R., House Painting in Denver, NC

2015-06-03

5★★★★★ - "Randy is the best and he was on top of everything from start to finish. The place looks great, better than we hoped for. He finished ahead of schedule. He is very particular and did more than I asked for without charging me a penny more. You couldn't find a better contractor. I've already got plans for some outdoor work for him later this year."

Renato and Sharon S., Painting in Denver, NC

2015-06-03

5★★★★★ - "I highly recommend R&R Painting. The service was very professional and I would definitely use them again. They completed the work in a few days and did not required any touch ups. Great job."

Ryssell R., House Painting in Lincolnton, NC

2015-06-03

5★★★★★ - "Great job - very professional - crew very knowledgeable as they found problems that would have caused future problems and fixed them straight away - all round good company with the homeowners interest in mind"

Rich, Painting in Lincolnton, NC

2015-06-03

5★★★★★ - "I am a do-it -yourself person and a skeptic when it comes to hiring contractors. Randy came highly recommended and presented himself and his team in a very professional manner. Being a skeptic, to me, everyone is at their best in the sales phase but performing is a different issue. I decided to hire R&R Painting to paint the exterior of my cedar shake, two story house and detached garage.  Randy and his team lived up to their promises. They were always on time, communicated well, did the little extras-just because they needed to be done and kept the job site immaculate. While I maintain my general skepticism, R&R Painting separating themselves from my general rule, made the job an enjoyable experience and I would definitely hire them again."

JEFF K., Painting in Denver, NC

2015-06-03

5★★★★★ - "Working with Randy and his team was by far the best contractor experience my family has ever had. Not only was his pricing reasonable, but the professionalism and quality of work they demonstrated was top notch. They arrived as schedule, on time, and didn't leave for the day until everything was cleaned and touched up. Randy and his team even went the extra step of providing constructive criticism of some of our choices, which in the end resulted in far better results than we hoped. Would happily work with them again, and have recommended them to all our friends and neighbors."

James & Cameron P., Painting in Denver, NC

2015-06-03

5★★★★★ - "R&R Painting just finished their third project for us in several years. Each time they have painted our home they did an excellent job. They arrive on time, do their prep work, paint two coats of paint on walls/ceilings and trim. The paint is never watered down. Each project they have completed on time and cleaned up afterwards. Randy and his team our polite and professional. We feel the price is very fair and Randy appreciates repeat."

Keith Shannon

2015-04-08

5★★★★★ - "Removed popcorn ceiling in six rooms and hallways. Patched ceilings and painted; patched wall where needed, prepped for painting. Painted several room including all trim work, doors and two story foyer. Five days of work. Very friendly staff- punctual and efficient- conscientious about covering floors, etc. while painting. Excellent workmanship."

Sherry Strunk in Mooresville NC

2014-12-09

5★★★★★ - "Randy and his team were terrific! Randy was very helpful in reviewing our project needs. He took the time needed to review each area of work and had great suggestions regarding products to use. The interior and exterior work was performed with excellence. The crew was timely and professional. I will plan to use R&R again in the future."

Tracey Hilker in Davidson, NC

2014-12-09

5★★★★★ - "I called Randy and his team after I hired a different contractor (a GC instead of a painter) who did an awful job and left my house a mess. He was fired and Randy and his team especially Terry and Les, came in and made the house look great again. They fixed the other contractors mistakes, repainted most rooms and trim, and painted all the bathroom cabinets to update the house. I highly recommend R and R painters; they are professionals at a very fair price. All the guys are super nice and polite. I was pleased with their timeliness and work ethic, as well as their knowledge on how to do the job correctly. Do not make the mistake I did, call Randy and he will take care of you. Once again, I highly recommend R and R painting."

Kylie Parrott in Cornelius, NC

2014-12-09

5★★★★★ - "R and R Painting LLC timely and successfully completed the pressure washing, cleaning and painting of my old pier, covered boat house, and porch steps using Super-Deck Elastomeric Coating. His crew of 4 was very professional and through. They did not waste time. For the work performed the price was reasonable and the owner, Randy Mowrey stopped in frequently to check their work. I am satisfied with the work performed and from my standpoint will recommend them to others."

Ernest S. Cox

2014-11-04

5★★★★★ - "The staff was courteous and cleaned up when they were finished. I have had several experiences with Randy and his team, as well as my children. I highly recommend R and R painting for any painting job you will need."

Isabel

2014-10-06

5★★★★★ - "Thank you R&R Painting for doing such an amazing job! Your quality of work is excellent. I could not ask for a better team of professionals. Your advise and expertise is appreciated. Thank you for everything, the job you did is beautiful. I am very pleased."

Kathy Davis

2014-07-10

5★★★★★ - "I contracted R&R Painting to paint my property to enhance its value prior to selling. The professionalism displayed by Randy was top notch. Randy was knowledgeable about paint colors and schemes and his advice was well received. The work was completed on time, under budget and looks fantastic. This was first rate work and a pleasant surprise. I highly recommend R&R Painting if your wish is to have first rate work completed on time and within budget."

Roger DeHart II

2014-05-14

5★★★★★ - "We were so pleased with our experience with Randy and crew. They did an outstanding job in a timely manner. They went above and beyond to make sure we were happy and that our home looked great. I highly recommend them to anyone who wants a good quality job for a reasonable price."

Alisa & Roger Pelz

2013-11-18

5★★★★★ - "Normally I take care of the painting at home, so I was reluctant to hire someone, especially since in past times they haven't been as particular as I can be when it comes a steady hand. Well, I may just hang up my paintbrush, because calling R&R was the best decision I've made on a home project in a long time! Randy was such a professional, prepared and genuinely nice guy that I cancelled all the other estimates I'd scheduled and went with R&R after meeting with him. It was a big job (made bigger because of unexpected repairs and because I kept adding new rooms because I loved what they were doing!), but the crew was responsive to every request I made, I've never worked with such a nice bunch of guys. I'd made a short list of a few things I wanted to mention -- to my surprise, one of the guys came in that morning with the same list already on his mind and ready to be handled! They were punctual, pleasant, hardworking and very thorough. You can tell Randy and the guys take pride in the job they do and view it as the right thing to do to do great work. I'm not the only one who must have figured it out -- they stay booked! But it was well worth the wait. I can't recommend R&R highly enough."

A. Murphy

2013-09-26

5★★★★★ - "We are very happy with Randy and his team. The exterior house and deck painting we had done, looks absolutely beautiful. Randy was very professional, frequently on site and addressed any and all of our concerns. We were worried about our pool area and decorative concretes on our porch, pool decking and patio below our porch. They took great care to protect all the areas during the work. Everything was immaculate upon completion of the job! I was very surprised to come home and have all my outdoor furniture back in place. We needed some shingles repaced from an A/C leak and not only did Randy have a contractor he could recommend, but went the extra distance by personally contacting them and following up with us. He has even assisted us with having another home project completed, that is not on the list of services provided by R and R. This is an example of the very personal care we felt was included in our service. We highly recommend R and R painting for their professionalism, pricing, conscientous and friendly crew and attention to detail."

Scott and Tania D.

2013-08-02

5★★★★★ - "Great job – very professional – crew very knowledgeable as they found problems that would have caused future problems and fixed them straight away – all round good company with the homeowners interest in mind."

Rich in Lincolnton, NC

2013-08-02

5★★★★★ - "I highly recommend R&R Painting. The service was very professional and I would definitely use them again. They completed the work in a few days and did not required any touch ups. Great job.""

Russell R.

2013-08-02

5★★★★★ - "Randy is the best and he was on top of everything from start to finish. The place looks great, better than we hoped for. He finished ahead of schedule. He is very particular and did more than I asked for without charging me a penny more. You couldn't find a better contractor. I've already got plans for some outdoor work for him later this year.""

Renato and Sharon S.

2013-08-02

5★★★★★ - "When My husband and I finally had enough money saved to get our house painted, we thought that was the easy part. Finding a trustworthy painting company seemed like a HUGE task. But we hit the Jackpot when you showed up. My husband is in law-enforcement, and knew of your good name. Your crew were all professional, polite and hardworking. Our house looks brand new. I just want to thank you for a professional, timely experience, We will recommend your company to all our friends and associates! We are having a family gathering soon, and can't wait to see the reaction of all our company when they see our house!""

Diana R. in Denver, NC

2013-08-02

5★★★★★ - "R&R Painting did an amazing job on the exterior of our home. It looks fantastic and we are thrilled with the results. Randy and his crew were responsive, knowledgable and professional as well as talented. We are more than satisfied with our "new" home and will most certainly be referring friends to Randy and R&R Painting.""

Amanda A.

2013-08-02

5★★★★★ - "I couldn't be happier with the paint job. I can't believe it's the same house! Everyone was professional and dependable. Highly reccomended!""

Jason in Mooresville, NC

2013-08-02

5★★★★★ - "The R & R Paint staff was very professional in the execution of their duties. Their attention to detail is unsurpassed and they were extremely helpful in every way. The end product was outstanding and I will call on R&R Painting again with my painting needs.""

David & Lou Ann L.

2013-08-02

5★★★★★ - "R&R Painting did a fantastic job power washing and cleaning the exterior of our home. They were very prompt and courteous during and after the process. I will definitely be using R&R Painting in the future and would highly recommend them to anyone."

Dale Peterson, Power Washing in Denver, NC

2013-08-02

5★★★★★ - "It was such a pleasure having people come in, on time and finish a job in a professional way, by the deadline promised. I love my newly painted interior of my home. Thank you Randy!""

Michelle D.

2013-05-21

5★★★★★ - "Randy and his team did an outstanding job with the painting of our bonus room as well as the staining/painting of our stairs and rails. We had another contractor come in and sand/stain the stair treads. But he would not sand/stain the rails. Randy came in and suggested a better and less expensive approach for sanding/staining the rails, which was greatly appreciated. Additionally, the stain color the previous contractor used wasn't an exact match to our hardwoods. The stain that Randy's team mixed up for the rails was a better match, so I had him restain the stairs as well. His team even did some finish carpentry work that I thought I was going to have to find another contractor to do. Great team, great job. I highly recommend them and intend on using them for any future painting needs."

Chris Thornhill in Denver, NC

2013-05-21

5★★★★★ - "R&R did a top notch job painting my homes interior which has a ton of white decorative molding throughout which the crew painted to perfection. For contrast the walls were painted with a different color (using a satin finish which Randy recommended to his credit). My house looks better than brand new, what an amazing difference. Highly recommend Randy and his quality crew."

Gene G. in Sherrills Ford, NC

2013-05-21

5★★★★★ - "Always on time which is rare in services these days. Polite, hard working, did excellent job!"

Patty S.

2013-05-21

5★★★★★ - "Randy and company did a great job on my elderly in-laws' home in Denver NC. I was left with the impression that Randy is an excellent professional who cares about his customers' needs. I recommend R&R Painting without reservation."

J. Johnson in Greensboro, NC

2013-05-21

5★★★★★ - "Randy and his team were very professional and did a great job painting painting the interor of our house. They were always on time and very easy to work with. We would use them in the future and recommend them to others."

Wanda McManaway in Davidson, NC

2013-05-21

5★★★★★ - "Randy and his team painted our entire house from top to bottom. When we bought the home there was wallpaper in almost every room. The house looks brand new thanks to a great paint job! Randy was very easy to work with. His company gave an honest and reasonable quote, and were very prompt in getting the job done! I would recommend him to anyone and plan on using his services again in the future! Thanks so much!!"

Kelly Cloninger in Dallas, NC

2013-05-21

"Extraordinary quality service. Highly recommended. Very professional, polite and hardworking painting crew. The owner was at the site to complete daily inspections to ensure customer satisfaction. I will use R&R Painting time and time again and would recommend to anyone looking for the highest quality service at the best price."

5★★★★★ - "R&R did an excelent job. We had every room repainted. We also had popcorn taken down and ceilings resurfaced. It was a lot of work, and they got it done in a very reasonable time, and it all looks very good. I'd use R&R again, and recommend them to friends."

Mike Jimison, Popcorn Ceiling Removal & House Painting

2013-01-14

5★★★★★ - "R&R Painting provided exterior pressure washing. This job was timely, with high quality, and precisely as contracted. Based on the experience, we then contracted for some small interior painting jobs. The experience was very positive, exhibiting the same quality standards, timeliness and flexibility. Subsequently engaged Randy and R&R to do a larger interior painting contract with multiple rooms, heights, angles, and rather complex working arrangements around other contractors, and service personnel. They did an outstanding job! The total experience has been outstanding! The timeliness, punctuality, and quality are far superior to our prior experience with contracted painters. The staff are friendly, clean, and attentive to detail. Randey spends time on the job site and insures the total management of the experience."

Anonymous, Painting in Mooresboro, NC

2013-01-14

5★★★★★ - "R&R painted my whole interior house top to bottom. The house looked brand new when they were finished. I'm so excited to move in now and will definitely use this company again in the future! They were very prompt and reasonable compared to the other quotes we received. Loved their work!"

Homeowner, Interior Painting in Charlotte, NC

2013-01-14

5★★★★★ - "Very professional and quality work. We were extremely satisfied with R&R Painting."

Jeff Canterbury

2013-01-03

5★★★★★ - "The paint job Randy and crew did for was was exceptional. They made old drywall that had previously had wallpaper on it look almost new. They took care to patch many areas that we thought were hopeless and even patched the popcorn ceiling where water damage had occurred. They were on-time, courteous and cleaned up well after completion. I highly recommend them and hope to use them again soon."

Tresa, Painting in Denver, NC

2012-12-20

5★★★★★ - "I really thought thought the guys did a great job. They worked extremely hard, were very professional and took time to correct the wall/ceiling issues. They didn't cut any corners just to save time or scoot out early. They put in the time, the work and the effort to make our house truly feel like a home - not just a space with a bad paint job. Our house is 12 years old, but looks like it's brand new now, thanks to your crew! It feels like a new house! The windows and shutters also look amazing!!! I didn't realize how faded the paint was until they painted on the new color. Wow, what a difference! Thank you again for doing such a wonderful job and working with our budget."

Sarah M., Painting in Denver, NC

2012-12-20

5★★★★★ - "Could not have been more pleased with both Randy and his painters. They are all more than pleasant to have around. Follow up with every detail and Randy constantly follows up checking the job they are doing. They strive to make it right and make you happy. Have recommended them to several neighbors already and am about to call them back for another paint job we have. Best experience we have ever had with painters. Clean, neat, good and also fast."

Richard & Paula C., Painting in Denver, NC

2012-12-20

5★★★★★ - "Randy and his team did an excellent job painting the interior of a 56 year old house.They repaired cracks, removed, drywalled, and painted space where attic fan was, removed wallpaper, corrected issues hiding behind the wallpaper, painter the exterior stoop, and were very professional, timely, and gracious. Work was excellent. Will call on R & R again."

Janis H., Drywall Repair in Charlotte, NC

2012-12-20

5★★★★★ - "Randy and his team took very good care of our home and had extreme patience in my indecisiveness at to the finish of our garage doors. I will most certainly contact them again."

Homeowner, Painting in Denver, NC

2012-12-20

5★★★★★ - ""Randy and team did an outstanding job. Our house looks fantastic and we are thrilled with the results. They were responsive and professional, and they do great work. We would refer anyone to Randy and R&R Painting.""

Bill & Beth S., House Painting in Cornelius, NC

2012-06-26

5★★★★★ - "We are very happy with Randy and his team. The exterior house and deck painting we had done, looks absolutely beautiful. Randy was very professional, frequently on site and addressed any and all of our concerns. We were worried about our pool area and decorative concretes on our porch, pool decking and patio below our porch. They took great care to protect all the areas during the work. Everything was immaculate upon completion of the job! I was very surprised to come home and have all my outdoor furniture back in place. We needed some shingles repaced from an A/C leak and not only did Randy have a contractor he could recommend, but went the extra distance by personally contacting them and following up with us. He has even assisted us with having another home project completed, that is not on the list of services provided by R and R. This is an example of the very personal care we felt was included in our service. We highly recommend R and R painting for their professionalism, pricing, conscientous  and friendly crew and attention to detail."

Scott & Tania D., Exterior Painting in Charlotte, NC

2012-06-26

5★★★★★ - "It was a pleasure working with R&R. Very impressed with the owner and crew. They took great care to make sure I was satisfied. I would recommend R&R because they are dependable and professional."

Randee, Painting in Sherrills Ford, NC

2012-06-26

5★★★★★ - "I spent many weeks attempting to find a painting contractor that I felt would provide me with the highest quality job. R&R Painting was my overwhelming choice, mainly because Randy and I had the same expectations for quality. Now that the job has been completed, I am pleased to tell you that Randy and his team out performed my expectations, and my house looks better than it did when it was brand new. You can see the pride and attention to detail put into every square inch. Outstanding job! Thanks again Randy, and your hardworking team of professionals."

Steve S., House Painting in Denver, NC

2012-06-26

5★★★★★ - "Randy and his team have completed projects 3 times for us. Each time they have finished on time and we have been very pleased. We will use them again."

Janet J., Painting in Cornelius, NC

2012-06-26

5★★★★★ - "Randy and company went way out of their way to get our job done quickly and efficiently. They were very thorough and ensured the work was well done. I would highly recommend them to anyone looking for a high quality, highly professional company. Their pricing was very reasonable as well. Job well done! Thanks Randy!"

Laura, Painting in Denver, NC

2012-06-26

5★★★★★ - "The painting that R&R did for us is "amazing"! The staff was so nice, worked hard and did an excellent job. I would highly recommend them."

Ray & Trena, Painting in Denver, NC

2012-06-26

5★★★★★ - "Second job R&R has done for us and have been extremely satisfied each time. Would highly recommend Randy and his crew!"

Sherry, Painting in Charlotte, NC

2012-06-26
---
Call for FREE Deck Staining Quote
---